Business card software to design and print great looking business cards in minutes.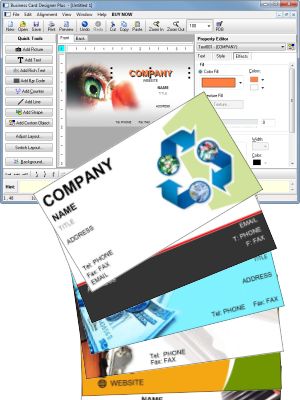 Business Card Software for Windows 10, Windows 8, Windows 7, XP


Why our software is better than the rest...


Completely customizable. Start with a business card template or a blank design, then modify in any way to meet your needs.


Add your own pictures and logos or choose from the included picture gallery of 50,000+ images.


Make business cards for anywhere in the world. US (inch) and international (metric) sizes available.


Supports all business card styles including wide, tall, double sided, photo quality (full bleed), folded & CD business cards.


Print yourself on US Letter or A4 paper stock from Avery® and other manufacturers or export for professional printing.


How to make a business card video
More great business card software features
It Pays for Itself

For less than the price of one batch of business cards you can purchase our business card software and print as many business cards as you need for as long as you need.


It's Easy to Use

Make a custom business card in minutes. Start with a template, enter your information and your card is instanty created and ready to print.


Custom Backgrounds

Use images, textures, gradient and solid fills to create a custom background for your business card. Tons of pre-defined backgrounds are included or create your own.


Useful Shape Tools

Draw lines, rectangles, triangles, ellipses, diamonds and more. Use blending to make the background semi-transparent, blending into whatever is behind the shape in our business card software.


Text Effects:

Our business card software lets you draw spiral, radial, arc and variable size text. Change the font, size, color, style, shadow rotation and blending. You can even display text as a bar code, an auto-increment counter or the current date and/or time.


Rich Text

Mix fonts, styles and colors of text within a single text object for rich text on your business card. Our business card software does not limit you to simple text.


Sample business card design templates
What People are Saying About our Business Card Software...
"Business Card Designer Plus is the best business card design software I have seen, and I have seen lots." - Joe Tex

"I was amazed to see a reply to my question within an hour after I sent it. Usually it takes 1-2 days to get a reply from others. You guys are great!" - Sara Peters

"I use Business Card Designer Plus to create business cards for my staff. I love the program because it saves me a fortune in print shop costs." - Bill Nanders

"I love how easy the business card software is to use! I have tried many other business card making programs and nothing compares to yours."

"You have been the most helpful support for a system I have ever had, thank you very much Chris, You just saved my neck. If you are ever going to Spain just tell me."

"With the Excellent Customer Service that goes with a really easy to use business card program you can be sure I will be upgrading soon."

"The Design Wizard is a great place to start when creating a new business card. It's simple, easy and I can have a card up and running in 2 minutes! With 50 employees it's a godsend."

"I have many employees that I create business cards for and the Personal Database and Save as Template are the best features. It saves so much time when I need to make new business card."

"I absolutely love the new shapes and gradient fills in this business card designer. I upgraded my version even though I bought it last year. Keep up the good work!"

"I downloaded several business card programs and either they were too simple or too difficult to use. Yours was just the right fit for us. You had all the features we were looking for and it was very easy to use." "How can you sell such great business card maker software for so cheap? I recommend it to everyone I know!"

"I loved the fact that your business card maker software has a trial version and then when I bought it I almost immediately got my Registration ID and didn't have to re-download a different version."

"I was very impressed that you took the time to help me fix my graphic problems with my business card, for FREE. Not many companies take the time any more to help out their end users. Kudos to you!"

"I like to create a wild business card and love the new text tools you added! I was pleased to see the new version released. I have been using your products for many years and have come to trust them. Unlike other companies you are constantly updating your software so I know will will be able to use them with the latest versions of Windows today, and in the future. Great Job."

"The texture and gradient fill support for text lets me print some really cool looking text. I have not been able to find this in any other business card software."

"I am very impressed with the graphics support in your Business Card Designer Plus product. I was able to include some very complex images with no problems at all. And with support for so many of the popular formats I did not have to convert any of my images. Keep up the good work."

"The Design Wizard is a work of genius! I've created a template that I base each employees card on. To create a card for a new employee I simply choose the template, enter the employee's information (BTW the database of users is another great feature) and click Finish. It could not be easier."

"Simply the best business card software available!"


Helpful Links...