Great Software to Design & Print Labels, Cards and More

2023 Edition Now Available!
-->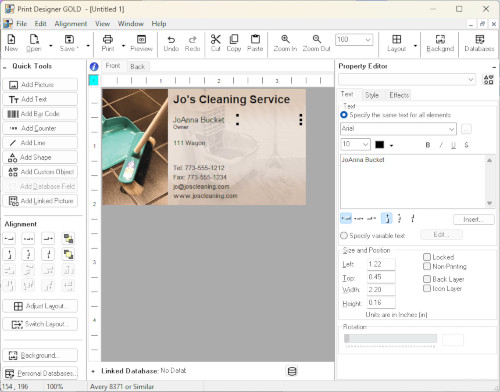 Label and Business Card Software for
Windows 11, Windows 10, Windows 8, Windows 7


Print Designer GOLD combines our Business Card Designer Plus and our Label Designer Plus DELUXE products into an all-in-one program with advanced capabilities to design and print just about anything. See the full comparison here.


Uses include business cards, mail & address labels, signs, CD labels, bottle & jar labels, tickets, name badges, id cards and other office related media.


Includes support for US and metric paper in any size and layout, any database, including TXT/CSV, Excel, Access and more.


Print text, images, shapes, lines, bar codes US postal codes, QR, UPC, EAN, PDF417, Code 128, Code 39, Code 25.
Benefits
Support for Any Paper Stock
Design US size, metric size or custom size business cards, post cards, labels, envelopes, badges, tickets, id cards, signs and more, plus
direct CD/DVD printing
on Epson, HP, Canon and other printers.
Support for Any Database
Link your address and shipping labels to one of the built in personal databases,
Text, CSV, Excel, Access, DBase, Paradox
database or any external database through ADO or ODBC. Any label can be linked to any database with our software.
Include Pictures, Logos and Clipart
Choose from over 50,000 clipart images in the Cloud Picture Gallery™ or include your own pictures. All standard formats are supported and you can even scan a picture directly into your design.
Custom Printing Options
Print any number of designs starting at any position on the sheet
on any Windows compatible printer.
Linked Pictures
Use the Linked Picture tool to add an image that is different on each card or label you print. Pull the file names from a database or specify a list.
Perfect for Photo ID cards or Badges.
Outstanding Software Support
We're always here to help you if you have any questions and we answer all support requests quickly. If you have a feature request or other idea, let us know and we'll consider it for the next release.
Sample Designs
| | | |
| --- | --- | --- |
| Address Labels and Envelopes | Business Cards | CD/DVD and More |
There is also support for all types of other labels and cards, including post cards, tickets, file folder labels, name badges, bottle labels, price labels, bar code labels and signs. These are just a few of the available templates you can choose from. There are many more with an infinite number of color variations for each.
What Others are Saying about our Business Card and Label Software...
"We just love Print Designer! Sure there are products available that let you print labels, business cards, etc., but PDG makes it easy. - Jonah Moody, USA"

"Print Designer GOLD is great! It lets me print on any, and I mean any, paper and label stock. - Knut Kampf, Germany"

"I created all my Invitation Labels in a matter of 5 minutes with your Personal Database. It saved me hours. - Kevin Pierce, Canada"

"I bought this software sight unseen because several people told me how great it was. I am very impressed and glad I listened to them."

"This versatile and truly affordable software is intended a wide variety of print jobs, from business cards, mailing labels, promo letters to custom labels, envelopes, badges and many more."

"You have jam packed this software with so many features but it is still easy to use and inexpensive."

"Fantastic Product! I love the idea of trying it out first, I am sure many people have purchased software and you get it home and it just won't do what you want it or need it to do and then are stuck with it and spend more money, I downloaded Print Designer Gold and found it was just what we needed and it is simple to use and produces a quality printed product and very versatile."

"I just upgraded from V8.0 to V11.0 and was pleased to find so many other formats to work with. This is a great piece of software. Keep up the excellent work and I'll be back for more upgrades."

"I love the database support in PDG. I can link to just about any database and even filter and sort to access only the records I want, in the order I want them."

"This is one dandy piece of software. I've used Business Card Designer Plus for years but always needed another product to print labels, which couldn't print business cards. PDG prints great business cards, plus I can design any label I need."

"I don't know how you can afford to sell such a wonderful product so cheap. I call it a bargain!"

"I love having all my office printing needs met by one program."

"I was very impressed to see the large amount of label templates."

"The Design Wizard is the best. I can create virtually anything I want in a matter of minutes."

"WYSIWYG, how many other pieces of software can say that?"

"The Gradient and Shape tools are great. I can create snappy looking labels and envelopes without spending a lot of time."

"I have tried a few name-brand pieces of printing software and not one compares to yours! Keep up the good work."

"I had problems printing labels on my printer. Your staff had it figured out in one email."