Make your Common Replies Fast & Effortless.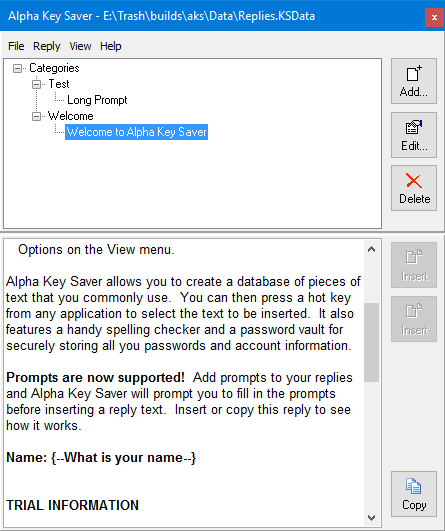 Canned Reply Software for
Windows 11, Windows 10, Windows 8, Windows 7


Insert common replies and text snippets automatically.
Save Time and Money:

Using keyboard shortcuts to insert canned text snippets into emails and documents saves you time and therefore, money.



Reduce Errors/Improve Consistency:

Not only is typing the same reply over and over again wasteful, it leads to errors. Use our canned response software to reply with consistent and error free results.



Use Plain or Formatted Replies:

Store your replies as plain text of formatted, depending on your needs.



Use Prompts:

Insert place holders that prompt you for information when inserting or copying a reply.



Multiple User Support:

New database engine allows multiple users to access the same file with individual record locking support.
DESKTOP USERS - Do you reply to a lot of email each day? Do you regularly prepare documents with standard paragraphs? If so, you need Alpha Key Saver. Stop wasting time re-typing the same information over and over. Alpha Key Saver lets you insert text snippets into any application with just a few mouse clicks, or with the help of keyboard shortcuts.


PORTABLE USERS - Choose the portable installation option to install to a USB flash drive or removable hard drive so you can access your replies from any computer without leaving a trace behind.

Featured Quotes from our Customers
"I downloaded Alpha Key Saver and was up and running within 2 minutes. No problems at all. And I can't believe how much time I have saved using it. I entered just some of my standard email replies and I can already handle my tech support emails in 1/2 the time."
- Pete Altar, USA
"I use Alpha Key Saver when writing reports for my home inspection business. I defined all the standard report paragraphs as replies and now can create reports from my notes with incredible efficiency. Thanks for a great product!"
- Sindey Peters, U.K.
"This is a *great* idea. Why hasn't someone thought of this before?"
- Nancy Rossi, San Diego USA