Record thoughts and feelings with our diary program
If you want to write down all your thoughts, feelings and dreams to ensure that you'll never forget them, you need to keep a diary. If you want to prevent anybody else from ever reading your private entries, or if you're worried that a paper diary might eventually end up lost or destroyed, you need a diary program for your computer. Alpha Journal is the solution you're looking for.
Alpha Journal is a diary program that gives you all the flexibility and enjoyment of a real paper diary, as well as a number of useful additional features. You can choose fonts, colors and sizes to make your entries as personal as you like, and you can even add photos, sounds and other objects that a conventional diary can't handle. It is the ideal environment for recording your innermost thoughts, and with this diary program you can rest assured that nobody else will be able to read them. Thanks to the optional password protection feature, Alpha Journal keeps all your entries private and secure. The integrated backup system ensures that your diary will survive even if your computer encounters a hard drive problem or is attacked by a virus.
As an added bonus, this diary program is also ideal for more traditional journal tasks. Alpha Journal makes it easy to keep track of birthdays, meetings and appointments, and if you use the Mobile Web App Companion you'll be able to take your diary with you wherever you go. For just $39.95, our diary program is surprisingly affordable.
Read more about Alpha Journal Pro
To see what our diary program can do, download a free 30-day trial version.
Here's what one of the satisfied users of our diary program said:
"I've been using My Personal Diary (former name of Alpha Journal) for over 4 years now. It has never failed me and it continued to get better and better with each upgrade. Your new AJ 3 tops all though. The new features put the icing on the cake, make AJ the most complete journal tool I have ever seen."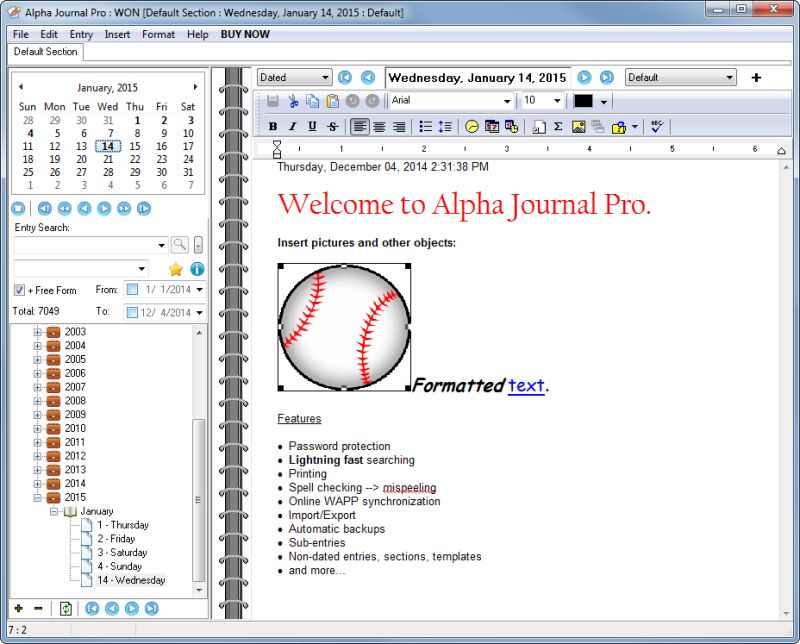 For more screenshots of our diary program, please click here.