Software to Keep a Secure Journal or Diary

2022 Edition Now Available!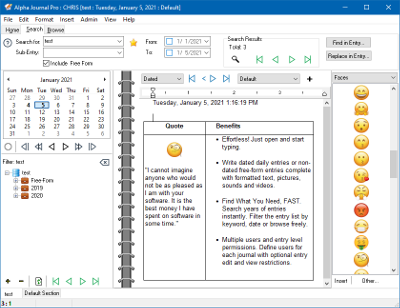 Journal & Diary Software for
Windows 11, Windows 10, Windows 8, Windows 7


A Diary or Journal for Personal or Business Use
Use our journal software to write a personal diary or as a business journal or log to keep secure records of daily events.
Effortless! Just open and start typing.


Write dated daily entries or non-dated free-form entries complete with formatted text, pictures, sounds and videos.


Find What You Need, FAST. Search years of entries instantly. Filter the entry list by keyword, date or browse freely.


Multiple users and entry level permissions. Define users for each journal with optional entry edit and view restrictions.


Benefits
It's Easy to Use
For basic use just open our journal software, and start typing. The current date's entry is automatically selected or you can use the calendar or browse to any date (past, present or future) and enter data there.
It's Powerful
Our journal software is extremely powerful, yet still easy to use. Format entries by changing fonts, colors and styles, and by adding pictures, sounds and other objects. Search entries for specific words or phrases. Use templates to maintain consistency. Print a hard copy in a variety of formats.
It's Secure
We know your entries can contain sensitive information. That's why our journal software gives you the option to securely encrypt your data with a password. Without the password you specify, no one,
not even us
, can access your diary.
It's Time Tested
Your personal diary or business journal data is important! Rest assured that the entries you write in our journal software are stored securely in a rock solid format which has been put to the test for over
20 years
now.
Write from anywhere.
The
online web app companion
lets your record entries while you are away from your desktop using any mobile device.
Outstanding Software Support
We're always here to help you if you have any questions and we answer all support requests quickly. If you have a feature request or other idea, let us know and we'll consider it for the next release.
What People are Saying About our Journal Software
"Alpha Journal has become my number three most used computer software right after my web browser and Outlook."

"I cannot imagine anyone who would not be as pleased as I am with your software. It is the best money I have spent on software in some time."

"I love the Dated and Free-Form feature of your software. I can run lists for things to do that day and a running list of things to do that don't have a time frame."

"I'm really enjoying Alpha Journal recording everything from personal thoughts and activities to highlights in the daily news. I hope that your software is around for years and continues to improve."

"This is the perfect program for me. It is so convenient and I feel like you read my mind, saw my needs, and said, Here is your program. Thanks for a wonderful product."

"I have been using My Personal Diary for over 14 years now. It has never failed me and it continued to get better and better with each upgrade. Your new Alpha Journal tops all though. I just switched because I have more demanding journalling needs. The new features put the icing on the cake, make AJ the most complete journal tool I have ever seen."

"I have installed your wonderful program, Alpha Journal and have been using it for a few days, and I just had to write to tell you how much I like it. It installed like a dream and seems to be bug free. Well done, I have been looking for a program like this for some time."

"I have tried several other diary programs that cost twice as much as yours and cannot believe how much better yours is. From installation to functionality yours blows them away, never mind the price!"

"I use this for work and I have to tell you how great this software is. I use it like a word processor for my meetings. Keeping track of them is so much easier now, everything is now stored in one program. No more hunting for files for me!"

"Your software really makes me feel secure with all of your password options. I also love the fact that you can send it to the Tray and it be password protected when you try to re-open it."

"I love the Search feature of Alpha Journal. I have several years worth of entries and this enables me to find specific ones in a snap. Good thinking."